Laos and its remaining elephants
Laos became earlier Lane Xang, known as the "Land of a Million Elephants" and is one of the last natural ranges of the Asian elephants. There are still around 600-700 elephants living throughout Laos, less than 200 of them wild in the jungle and around 400-500 in human hands.
As in other countries, their numbers have fallen sharply here, mainly due to the destruction of their habitat and poaching. The increase of agriculture as well as forest clearing reduces their protected areas and therefore leads to more conflicts with the population.
The approximately 400-500 elephants that live in human hands are primarily used for heavy forestry work (rosewood and teakwood) since forest clearing (profits from rosewood and teakwood) is legal in Laos. Few elephants are used in the tourism industry, but few are always too many. Fortunately, a change of heart towards ethical tourism has also begun in some camps in Laos.
One focus of the spread of wild and working elephants is the province of Sayabouri (Xaignabouri), where most elephants are said to be and where the elephant festivals have been held since 2007. The rest of the wildlife is distributed among the remaining protected areas in other provinces.
was founded in 2019 by Lek Chailert, who has been running the Save Elephant Foundation for 25 years. This new haven is nestled in a beautiful valley on a river that flows into the Mekong, in Sayabouri province.
The first to be rescued was Phoon Me , then Boon Hom, 2 very close female elephant friends who had to work in a trekking camp until 2018. Thong Khoon joined Kham Suan and Khammone with their baby Suk Dee in 2019 and October 2021.

Here the elephants can finally be what they are: elephants – simply be an elephant . That means: in the morning there is a little pampering breakfast
then it's off to the surrounding forests where they can spend the whole day living a normal elephant life of eating, bathing, relaxing, walking etc. Between 4 and 5 o'clock the whole herd comes back with their mahouts and there is a delicious dinner
.
And this delicious SPECIAL FRUITS BUFFET you can order with us

Here of course gets a little video and photos of our 3 girls.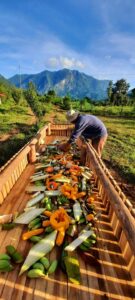 In order to be able to continue to enable this small herd to lead such a wonderful life, donations are urgently needed. The Elis would also be very happy about a sponsorship especially
THONG KOON

Suk Dee with Mama Khammone and Nanny Kham Suan were retrieved by their owner on June 13.
Not only the elephants have found shelter here
also about 20 cows, 27 goats, 5 rabbits, 27 chickens, 60 ducks, 2 geese and 3 turkeys were saved from the butcher and can enjoy their lives here. Of course, 10 dogs, 21 cats, 4 donkeys and 14 turtles also found a loving home. A small team takes care of everyone's well-being every day.
And when this sweet little cat with lame hind legs came to LAOS Sanctuary, it was immediately decided to build him his own little kingdom. Look how lovingly designed his new home.